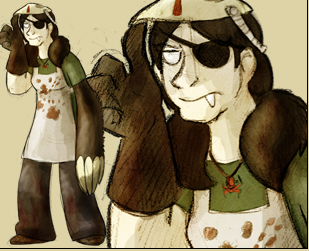 Myra Reinkemeyer is a Bugbear. She lives in Missouri and works for the Verona Haunted Corn Maze (and other haunted attractions) every Halloween, acting as a Chainsaw Killer. She has a small crack on her medallion and so her left eye is always that of a bugbear. Because of this, she wears an eye-patch. She appears in the "One-Eyed Bear" comic. In the comic, she rescues Greg from the Nightmare.
Despite being a little gruff Myra went out of her way to help Jim, Michelle and Merial. She also forced the demon Mikhail Grim to apologise to the group to get the Nightmare skull back.
Reader questions on January 21, 2011 reveals she has at least two half-siblings. Her mother's first child was a boy, and her father's a girl, both of which are older than her.
So her older brother is, if bugbear tradition is held true in Myra's family, raised by his father and not Myra's mother, while Myra's father's first daughter was raised by her mother, not Myra's father.
Myra was born in Frankenstein, Missouri and come from an old, traditional Bugbear family. Most of the year Myra performs odd jobs for cash, only really being active in the fall season. She lives with a group of mythical creatures in a old hotel turned haunted house. She works also works there in the season.